Promote Your Booth:
_____________________________
1)
BoothName.com / Your Name
Web address subscription ... provides and supplies a way to promote your booth business at your booth, and also up to the Web.
Imagine your audio file, and or your video as promotional tools.
2)
Sign(s)
Booth Sign
Imagine how many smart phones enter / visit your booth each day. Imagine them seeing your web address sign in your booth. (as below). ( BoothName.com/JaneDoe ) Imagine them surfing to your site to see / learn much more about your business.
List more items / any items / products that you don't display or have room for in your booth. Explain your interest and items you wish to buy.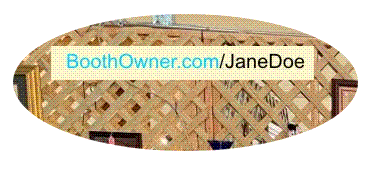 Magnetic Vehicle signs
Road Sign(s)
As we all see, yard signs for Garage sales and other events, imagine your sign placed on each major highway entering your city.
Traffic and smart phone traffic.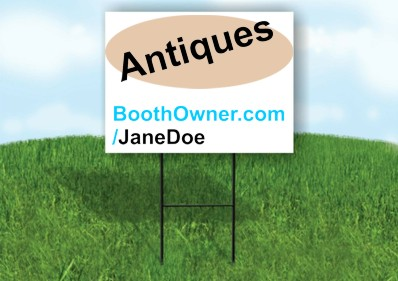 3)
Business Cards
Supply cards / brochures in your booth. Explaining more of what you offer and what you specialize in and are wanting to buy.